"Super Saturday" Projects Instructions
Stacking Blocks – Love One Another - 30-45 minutes for this project. Love one Another in a burgundy/cream/green combination. These we did for $8.00. The hardest part was cutting the word templates.  Do this ahead of time for the sisters with a razor knife.  Paint two coats of color on each of the blocks, let dry.  You can use stencil spray to help the template stick a little to the wood OR you can tape it down on all four sides of the block.  Gently sponge on the taupe color for the letters.  You may have to go back and touch up a few letters.  To antique it, sand corners of blocks and then rub down with a stain.  We used MINWAX Wood Finish stain in the color Early American 203.  Just rub it on with one cloth all over, and rub off with dry towel.  Don't let it get on your clothes!  It darkens the burgundy color just a shade.  I can email you file for the word template.  This could be done for many seasons:  Happy (pumpkin picture) Halloween – in orange and black, Happy (bunny picture) Easter – in pastels, Merry (Tree with presents all around) Christmas, etc.  We had someone in our ward finishing their basement and had lots of little 2x4 pieces.  Another person in our ward had a cutter and router-edge that volunteered his time – it helped his wife was in the RS presidency!  J
<![if !word & !ppt & !excel & !vml]>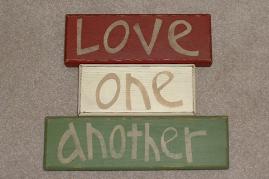 <![endif]>
Memory Plates - We went to Honk's $1 store and got their clear glass plates with rounded edge. We had the sisters photocopy their pictures (only do black and white because the colors tend to bleed). The smaller pictures turned out better but took more time. We just had them put a thin layer of Modge Podge (any decoupage brand would work) on the back of the plate (the part touching the table when you set it down) and on the front of the picture, then layer on the pictures the way they want. Let it dry for 20-30 minutes then do another layer of MP over the pictures. Then with a sponge brush paint silver acrylic paint over it (this fills in any holes and looks great since it's a grey color against the B&W photos). This project is hand wash only!!! If you don't like it, put it in the dishwasher and it will all come off. Only $2 since sisters brought their own photocopied pictures.
<![if !word & !ppt & !excel & !vml]>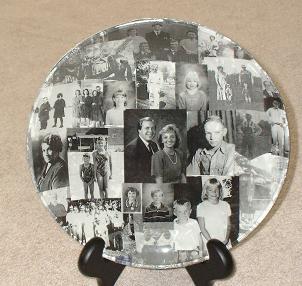 <![endif]>

Bath Salt Ornaments - Go get a big discount bag of Epsom salts. Add a little red food coloring (as little as possible because it does leave a light ring in the tub) and also add a few drops of cinnamon scented oil from any craft store. Mix it all together in a huge tub (depending on how many sisters sign up I guess). I don't have any exact measurements, just do to your own taste. Put in those 2-inch diameter plastic ornaments (Robert's again) and tie two together with gold ribbon. Have the ribbons already cut; I think our were 6-7 inches long.  The picture's a little large.  $1 a pair
<![if !word & !ppt & !excel & !vml]>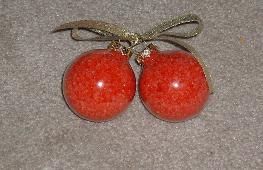 <![endif]>
Canvas Church Bag - Allow 30 min. to complete. This adorable bag can be decorated any way you like and can be used for a tote bag, church bag, library bag, etc. Please note that actual size of bag will be 12 ½ by 12 ½ inches. These we did for $3.50.  We got the bags at Robert's for $1.50 after coupon I think.  They have iron-on template books there also where you can iron on a B&W image and then go over it with permanent markers and/or puffy paint.  You can use the images from the book over and over!  I had each of my three kids pick the picture they liked best and then I made them for Christmas.  For fun, I also did a clear/glitter over the picture to protect it a little more.
<![if !word & !ppt & !excel & !vml]>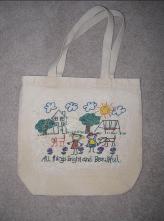 <![endif]> <![if !word & !ppt & !excel & !vml]>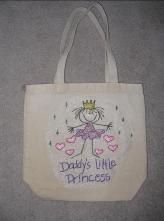 <![endif]> <![if !word & !ppt & !excel & !vml]>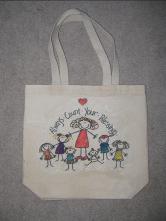 <![endif]>
    All Things Bright and Beautiful              Daddy's Little Princess                 Always Count Your Blessings

3 Trees - You can go to the Wood Connection store in Utah and they have some trees there, I think I remember they gave a discount for anything over 12 sets. If you have a person in your ward with a jigsaw who's services could be bribed with cookies, that will save you a ton of money and you can just get the wood at Home Depot. Remember to sand the edges before painting them. Do 2 coats of Christmas green and you could even antique it after sanding the painted edges. I can email you the file for The Three Trees story. See end of screen for story.  Print this on ½ sheets cardstock.  The sizes of the trees were about 9, 7.5, and 6 inches tall by 1.5 inches thick. You can just look at it and make up your own pattern (better than mine) if you are having them cut by someone in the ward.  $7 for trees and story on cardstock.
<![if !word & !ppt & !excel & !vml]>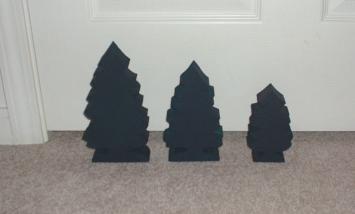 <![endif]>
Reindeer - I don't have the instructions for this, I'm sorry. Our old Enrichment Leader was in charge of this one project and she moved many months ago. I know she had a friend who cut the pieces and she used the small package of Christmas lights, a wooded bulb with one side 1/4 sanded down flat for the nose and she also used the fake, squishy snow stuff they have at Roberts.  That's the best I can help you on that one. I apologize.  She charged $10 for these but this did not leave us any extra $ to help with paper goods.
<![if !word & !ppt & !excel & !vml]>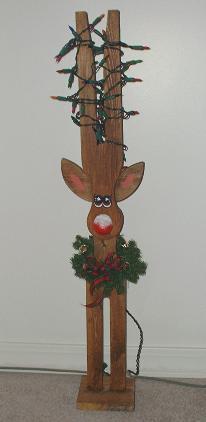 <![endif]>

Cotton Temple Press - Allow 5 minutes for just the mold (to paint with clear/glitter and gold puffy paint on Moroni) or 15 min. for the framed and matted version with scripture. We had the molds already made and ready to glitter. These we did for $4 for just the mold or $8 framed with cardstock and quote. (The molds were a little time-consuming to make but pretty).  The frames were only a couple of dollars at Wal-Mart.
<![if !word & !ppt & !excel & !vml]>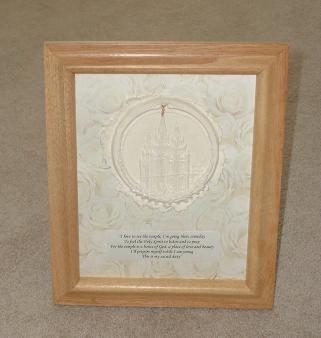 <![endif]>
"I love to see the temple, I'm going there someday…"
You could do a favorite scripture verse as well
Holiday Plates - Same $1 plates from Honk's or any other dollar store with glass plates. These do NOT have to have a rounded edge. They have really nice plates at Bed Bath Beyond or Linens N' Things, put you pay the higher price. I can email you the templates I have of the patterns. Have the sisters cut these out and tape to the right side of the plate (the side you eat on) tape it at the edges and have them flip over the plate so you are reverse painting everything on the back of the plate. First have them wash the back side of the plate with a vinegar & water rinse. This will help the paint to stick to the glass. Let dry. Any small details need to be painted first and let dry before doing the next layer. For instance, "Baked" need the eyes, mouth, red cheeks, green bow, heart buttons and white frosting painted first. "Holidays" needs black eyes and mouth (use the end of the stick paint brush), green scarf, red heart buttons & hat painted first. "Santa" needs black eyes, red nose, mouth and hate, and white eyebrows paints first. Then paint white beard, hair and end of hat. Remind the sisters to reverse paint the letters. Let dry for 10 minutes and then lightly spray the back of the plates with a clear matte spray (outside). Hand wash only!  I think we charged $3 for the plates to cover all the different colors of paint and different brushes.  These plates were $2 at the store and we ended up buying them out. 
<![if !word & !ppt & !excel & !vml]>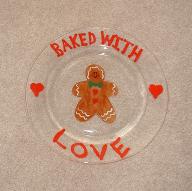 <![endif]>  <![if !word & !ppt & !excel & !vml]>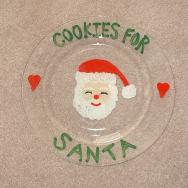 <![endif]>  <![if !word & !ppt & !excel & !vml]>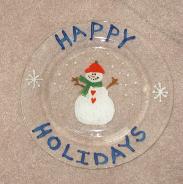 <![endif]>

*You might want to actually do the projects first so you will know how to better explain it to the sisters. I don't know how good I am at instructions, but I hope you get the idea of how to do these cute projects. We really saved a lot of money by having everyone in our Enrichment Board going almost every day and using the 40% off coupons. Any extra money was used for paper products for our potluck luncheon. Enjoy!

<![if !vml]>